For more than 40 years, Minipack-Torre has been developing heat shrinking solutions starting with the original heat shrink chamber machine in 1973 which revolutionised the packaging machinery market and now carries a registered international patent.
With their full range being 100% MADE IN ITALY, the quality, consistency and reliability of their product is second to none. With a focus on innovation all Minipack®-Torre products are designed and made in our their plants in Dalmine and Osio Sotto in Italy and are now a leading producer of packaging machinery globally.
We can supply the full Minipack-Torre packaging machinery range which includes heat shrink wrapping, bundling (sleeve wrapping) machines, flow pack machines and vacuum packing machines. Please ask us for further information on any product from their range you don't see on our website.
The Original Heat Shrink Chamber Machine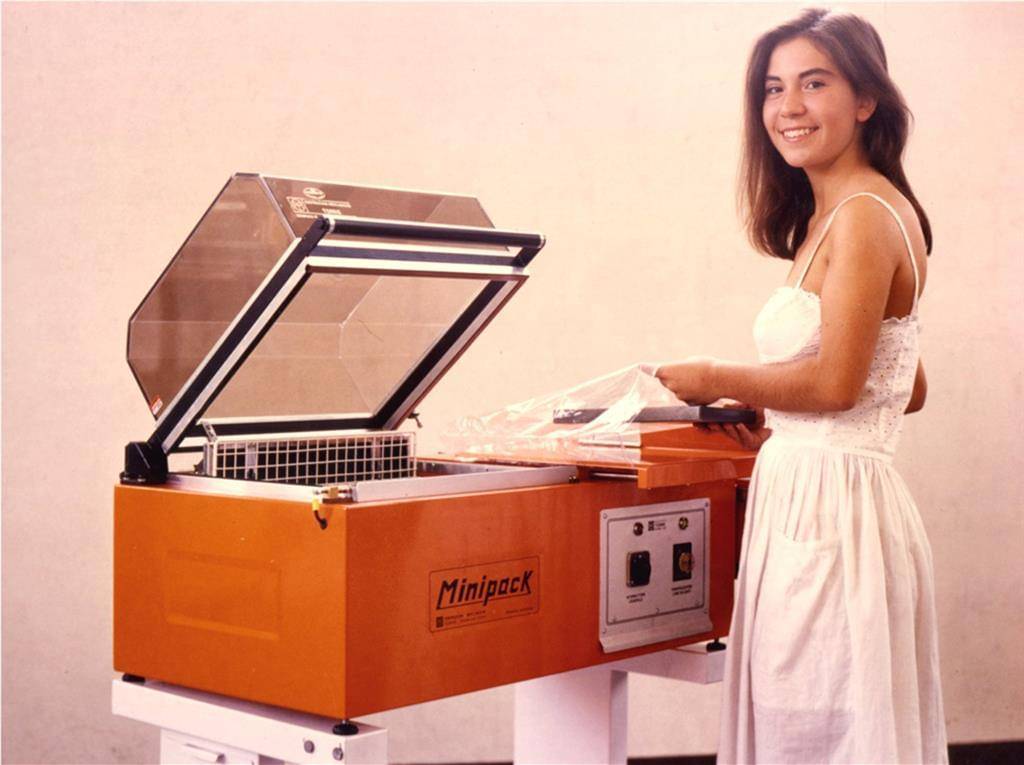 The economic crisis, due to the instability of the oil market in the Middle East, caused a drastic drop in job orders. This is when the first heat-shrink chamber machine, which revolutionised the packaging market.




Our Most Popular Chamber Machines
L-Sealing & Bagging Machines
Our L-Sealing and Bagging Machines offer...
Our range of L sealing machinery produced by minipack®-torre have been perfected through years of expertise, leading them to be the priority choice of L sealing machines for many laundries, bakeries and other industries all over the UK and Europe. Our semi automatic and fully automatic L Sealing Machines come with many excellent features and produce a consistent seal quality time after time

Easy to use with increased productivity over manual L Sealers and chamber machines

Packing speeds dependent on versions available

• Simplicity of use, both in terms of operation and of set-up

• Superb flexibility to wrap a wide range of products, shapes and size

Easy to use with increased productivity over manual L Sealers and chamber machines

Reduces operator fatigue

Increased reliability with less down time

Can use a variety of shrink and non shrink films

Easy to integrate with a shrink tunnel
Our Most Popular L-Sealing Machines
Our Heat Shrink Tunnels offer...
Our range of Minipack®-Torre heat shrink tunnels include:
Single Chamber:
• single chamber heat shrink wrapping tunnels - ideal for the semi automatic L sealers with lower volumes and speeds
• Two single heat shrink tunnel size formats currently in our range
• Tunnel 50 being available in a standard painted RAL finish - a hard wearing Steel It paint finish and also fully stainless steel construction
• Largest heat shrink wrapping tunnel in the range is the Tunnel 70 - available in standard RAL painted finish - ideal for the larger format L Sealing machines
Double Chamber
• twin chamber heat tunnels - can even be coupled with any of our flow wrapping machines and machines from Record packaging spa and Ulma etc
• Range of twin chamber heat shrink tunnels we offer are capable of attaining much higher speeds
• Two double heat shrink tunnels currently in our range.
• Tunnel 50 Twin - available in a standard RAL painted finish and it is also available fully constructed in stainless steel for food and medical packaging
• For demanding high speed application we have the Tunnel 50 GT Twin
Our Most Popular Heat Shrink Tunnels